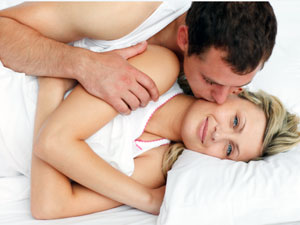 You must have heard and read about the use of dirty talks in bed to excite the partner and get him/her into the mood for lovemaking. Well, these dirty talks do work wonders! Through words you can chance the mood of your partner in seconds. To make the dirty talk effective, you should know what to talk to your partner. Here is what to tell your woman in bed and excite her.

Things to tell your woman in bed:

I love your shaped body: It is very important to compliment your woman, this way, she not only gets into the mood for making love but also maintains herself to look attractive. You can gift her a sensual dress and whisper these words in her ears. She will like being complimented and would get excited too.

I want more: After an orgasm, you can talk dirty to excite her for a new session. This also shows your interest in her and the satisfaction you get with your lady love! You can kiss her and say tell these words to your woman in bed.

Your moaning makes me excited: A woman is shy and might hesitate to express that she had a great orgasm. Generally, a woman gives hints to show that she is satisfied. Men actually love the sound of moaning as it excites them more. So, don't think before telling this to her.

I love to kiss your soft body: The best way to tell it in bed is through action. Kiss her everywhere in the body and then tell her that you love to kiss every portion of her body. You can also add the word 'smell' to make her feel more comfortable. Tell, "I love the smell of your body and it drives me crazy."

Tell these words to your woman in bed and use it to excite her.