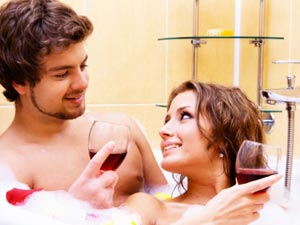 Making love can be erotic and enjoyable when tried at different places. Lovemaking can become boredom when done only in the same bedroom so, different places in the house such as bathrooms and kitchen can be used. A shower together can not only be intimate but sensual too! If you want to have orgasm in the bathroom, check out the best bathroom lovemaking positions.

Best bathroom lovemaking positions:

Standing: This is one of the most common position to make love. The standing position can be enjoyed under the shower whilst taking bath. However, sometimes, the man can be lazy to lift the weight of his partner so there are other positions which can help!

Sitting: Women love the sitting position. It is also the best for men as they don't have to put much effort. You can use the sink slab to enjoy the sitting lovemaking position in the bathroom. Let the woman sit at the edge of the sink to allow deep penetration during orgasm. You can use pedestal for support.

Woman on top: This lovemaking position is easy to implement in the bathroom. You can sit on the commode and make the woman come over you. Both men and women love this position as women handle the thrust and pace of the penetration.

Doggy style: The all time favourite position of the couple can also be tried in the bathroom. The woman can lean forward on the sink and the position can be tried!

Man on top: This can be only tried if there is a bath tub in the bathroom. To enjoy this lovemaking position, you have to make space. The classic missionary position can be best enjoyed with a glass of red wine and a foamy tub!

Try these positions to enjoy lovemaking in the bathroom and spice up the orgasm session.