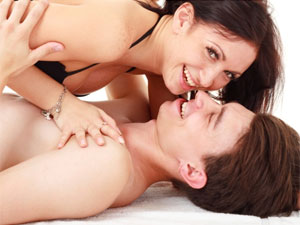 If you want to spice up romance and please your man on the bed then the most important thing above all is to be free and comfortable. If you want to become the best woman lover of your man then follow these tips to please a man in the bed:

How to please a man?

Take the initiative: It is the man who always takes the initiative so a time might come when he thinks that why his woman never comes to me? To prevent him from thinking wrong and creating mess in your sex life, sometimes try to take the initiative and show your interest in lovemaking.

Every man loves a fantasy: If you think that men are not romantic then think again! They don't think like you but men love to fantasize and when their fantasies become a truth, they go crazy! Try to know his fantasy and implement it after few days. See how you please a man with the surprise.

Offer variety to spice up romance: Try out new lovemaking positions to keep up the orgasm spark and please your man at the same time. Don't stick to one or few lovemaking positions as it becomes boring and both of you will gradually lose interest. Also try to do sensual acts which he loves!

Energy, effort blended with wit and humor: It is a great mixture to please a man on bed. Be bold and impressive as men love such qualities among women.

Dirty talks: This get a man in mood so try to talk dirty. It also signals that you are in a mood to make love. Give hints to show your mood, men love to see the sensual signals given by women to attract his attention!

To please a man, a woman needs to be active and participative. These other tips can also be used to add to the mood and make love!