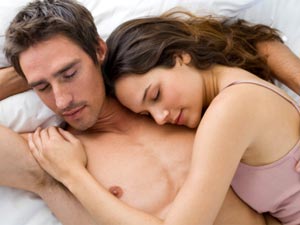 Men have wild and unexpected fantasies about lovemaking. They love to think about lovemaking mainly because of interest and the tendency to think in every 30 minutes interval. While making love to their partner, most of the men get different fantasies which they want to experiment with. Few fantasies are almost next to impossible and can't be fulfilled. Here are the most common fantasies which men dream about and would love to turn a reality. Take a look.

Men lovemaking fantasies which they want to experiment:

Threesome is awesome: Most of the men fantasize making love with two women at the same time. A man wants to make love with two women and want to enjoy the oral lovemaking at that point. This fantasy turns on a man anytime!

Lesbian act: Most of the men like to fantasize threesome act where the two women get into some lesbianism in front of him. A lesbian orgasm session is a major turn on for any man. This fantasy may not be fulfilled but men love to think about it every time.

Anal love: In general, women don't like anal lovemaking and this becomes a wild fantasy of men. This is because men love to try something which is denied by a woman. A 'no' can turn a man more to fantasize about it.

Oral pleasure: Although most of the women hate to give oral pleasure, men still fantasize about getting an oral pleasure. Men who have experienced an oral pleasure before have more urge to try again. It is not just limited to getting an oral job. A man also loves to give oral pleasure to his woman. Giving oral pleasure to a woman is a wild fantasy because it is a treat for him to watch his woman arousing to the stimulation.

Striptease: This is an all time favourite and one of the most common fantasies of men. Imagining a woman stripping in front of him turns a man on any time. An erotic striptease is what every man fantasizes about.

Dominated lovemaking: A man fantasizes about making love in which the woman dominates the session. This is mainly because a woman seldom dominates the lovemaking session so it is the man who starts fantasizing about it. A man imagines a woman who ties his hands and dominates the whole session.

These are the common lovemaking fantasies which men dream about and feel like experimenting!