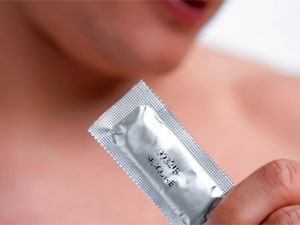 Condoms come in various types, sizes and styles for various uses and is the best way to avoid complications like pregnancy or getting sexually transmitted diseases. For best quality and durability, store condoms in a cool, dry place. Always check the expiry date before buying a condom as the expired ones are more prone to tearing off during the lovemaking session. Never put a condom on your partner's tongue or mouth as it leads to asphyxiation and death too!

Many couples complain that wearing a condom is a barrier in lovemaking which spoils the mood but there are ways to keep the rhythm going without harming your health. Always go for lubricated condoms which doesn't break easily and are also smooth during the intercourse. Sometimes women don't lubricate due to lack of excitement and this is where a lubricated condom works.

Here are few tips to remember before wearing a condom:

1. Always get the right size of the condom and not what is generally available. See why you need a condom, either as a protection or to make lovemaking pleasurable or for an oral orgasm session.

2. Avoid wearing too tight condom as it will cause discomfort and might tear while making love. In case its big, it might come off and lead to complications.

3. Try flavored condoms for an oral orgasm session. But a flavored condom of your partner's choice. But to prevent health problems, avoid using it for intercourse if you have other options. Sometimes the flavoring contains sugar which can catalyze yeast infections. Many manufacturers do not have sugar in the sweetener, but it's better to be on the safer side.

4. Do not try to go for extra safety by using more than one condom. This causes extra friction which will break the condoms more easily.

5. Once you take out a condom before the ejaculation, don't wear it again. Go for new one to be on the safer side.

6. Use different types of lubricated condoms for new experiences in intercourse and also to spice up romance. See what both of you like and more importantly what your partner likes!

Use these 6 tips before wearing a condom.